This page shows extra exclusive information on fightmon.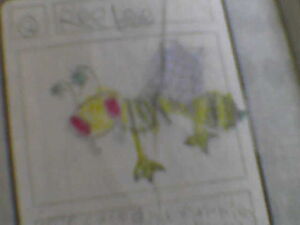 This is the original drawing of
Ree bee
it was made in a "Dual masters" coloring book when the creator was 7. It was drawn in the same coloring book on the same day that
Hartvile
,
Plantsy
, and
Ghost slicer
were.
Extra info
Edit
Ree bee would be the first fightmon to evolve because, Firee bee was made before Blazer, but since Nightwing was created before ree bee, it is considered the first fightmon to evolve. But technically ree bee is the first to evolve. The idea of ree bee was created when the creator looked at a steering wheel in a car and saw the shape of ree bee's head and thought of the idea for this fightmon.
Note:The creator usualy gets an idea for a fightmon when he looks at something and sees, in his mind, a creature.
Ad blocker interference detected!
Wikia is a free-to-use site that makes money from advertising. We have a modified experience for viewers using ad blockers

Wikia is not accessible if you've made further modifications. Remove the custom ad blocker rule(s) and the page will load as expected.